Attorneys Muldoon & Muldoon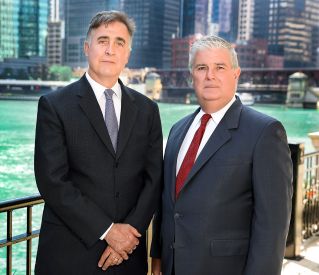 The attorneys at Muldoon & Muldoon, LLC are experienced litigators and trial lawyers who represent victims of all matters of personal injury, wrongful death and financial damages cases in Chicago, Cook County and throughout the State of Illinois.
Michael Muldoon focuses his practice on all personal injury matters, including wrongful death, motor vehicle accidents, nursing home and medical malpractice, criminal attacks, construction accidents and slip and fall cases.
John Muldoon is a registered securities broker and a registered investment advisor as well as a lawyer who focuses his practice on financial injuries, including securities fraud and commodities fraud. These cases often include instances of broker misconduct and financial fraud.
Michael and John have over 60 years combined experience protecting and fighting for the rights of personal injury, wrongful death and financial damages victims. The skills they have gained over decades of legal practice allows them to develop creative, effective strategies for solving your legal issues. No matter your problem, our focus is on securing fair and full compensation for you.